Acne
Acne treatments aim to reduce the appearance of spots, black heads and whiteheads, fight bacteria and remove dead cells to help clear the skin.

Please click below to start an online consultation or scroll down for further information.
Acne is a very common condition affecting around 95% of people between 11-30 years of age. Acne usually clears up as people get older, however, up to 3% of people can suffer from acne above the age of 35. Acne is usually found on the face and neck, but can also affect the back and chest in some people.

Acne is caused by tiny pores in the skin becoming blocked. These pores contain oils to lubricate the skin and keep it moist. Sometimes, the skin can produce too much oil, or sebum, and can get blocked causing the sebum to accumulate and bulge. This often leads to infections by bacteria that live on our skin causing the raised papules, pustules or nodules, which we commonly call black heads or white heads.

Hormonal changes seen during puberty cause an increase in the activity of our skin's glands which usually leads to teenage acne in young boys and girls. Other triggers of acne include wearing excessive make-up, periods causing changes in hormones, pregnancy, smoking, wearing clothing that causes irritation or sweating and certain medicines.
Several treatments for Acne are available. These range from creams, lotions and gels as well as tablets such as antibiotics and retinoids. Hormonal treatments may also be another treatment option useful for women to regulate hormonal levels during their monthly cycle.

Acne treatments work by reducing the amount of sebum produced in the skin, clearing the dead skin to open blocked pores, fight bacteria which leads to the appearance of black and white heads or control hormone levels to reduce sebum production.

Mild to moderate acne will usually clear up on its own for most people, while others may need a combination of creams and antibiotics to help clear their acne. More severe acne may need stronger treatments, such as hormonal treatments or retinoids, however these should be taken under specialist advice only as they can have more side-effects.
We have a wide variety of suitable products available to treat your acne. You can complete a short questionnaire for our prescriber to review to receive prescription strength treatments or visit our shop page to browse over-the-counter treatments available to purchase.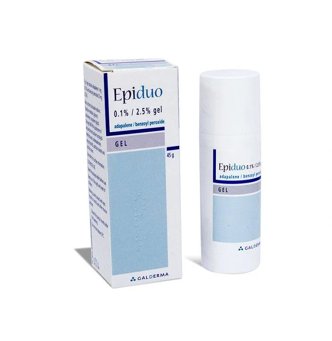 Epiduo Gel
Prices from £32.99

Double Action
Fights infection
Reduces inflammation and redness